Profile: Pheasants Forever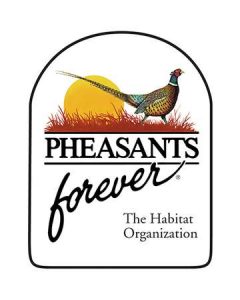 [Editors Note: This post begins a series on Wisconsin conservation groups that work with private landowners to improve habit on their property. Many also perform conservation practices on their own land or public lands across Wisconsin. But these posts will focus on the assistance they provide private landowners.]
A group of about a half dozen couples meet at the vacation retreat of Mark and Sue Martin, both retired DNR employees who spent their carriers conserving Wisconsin's public lands. Not content putting in 40+ hours a week working for the DNR, they then went to a joint second job managing the Madison Audubon Society's Goose Pond Reserve, outside Arlington. They oversee a mix of full time, student and volunteer staff caring for nearly 300 acres of the Empire prairie, including several highly productive pothole waterfowl ponds.
On this bright Saturday morning, however, we gather on their 140 acre get-away near Rio. Mark and Sue are leading a Wisconsin Natural Resources Field Trip designed specifically for private landowners. They are showing sharing their experience restoring oak woodland and drained wetland fields.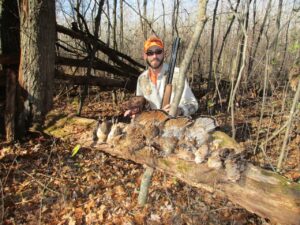 Sharing the leadership duties is Travis Wilder, Farm Bill Biologist employed by Pheasants Forever, and working out of the Portage NRCS office. Travis come to Pheasants Forever in November 2021 following six years with the DNR State Natural Areas program. He is one of seven Pheasants Forever biologists spread across Wisconsin. Each biologist assists private landowners with their wildlife habitat improvement efforts.
We stop on a levy that separates a cattail marsh with open water from the sedge meadow below. Travis explains that Pheasants Forever biologists provide technical advice about how landowners can reach their management goals. This usually begins by walking the property with the landowner. During this initial meeting, they talk about what the want to see. It also includes noting problems and opportunities to solve them.
Planning
Travis tells us that PF biologists help landowners develop a management plan. That plan can be used to apply for assistance from NRCS and other agencies. They understand how each program works and how to navigate the sometimes complicated application process. Biologists recommend experts who can help landowners with a variety of activities including:
Conducting plant and wildlife inventories
Improving site hydrology
Removing invasive species
Planting native shrubs, grasses and wildflowers
Performing prescribed burns
Once enrolled in programs such as Conservation Reserve Program (CRP) and Environmental Quality Incentive Program (EQIP), PF biologists help landowners monitor their progress. This helps landowners stay on track and meet their obligations.
Travis Wilder offers a tip for landowners planning to restore prairie or grasslands on their property. Plant no-till, Roundup ready soybeans the year before your restoration. No-till will minimize soil disturbance while Roundup ready soybeans will improve the soil and allow you to reduce weed competition for native wildflowers and grasses.
Additional Help
Travis and I sit down several weeks later at his office. The conversation turns quickly to local Pheasants Forever chapters and their roll in conservation. He tells me that unlike other sporting organizations, Pheasants Forever chapters retain and control all the funds they raise for wildlife conservation. PF members choose the projects want to support. The money they raise stays in the community. From Hudson to Kenosha, PF chapters volunteer their time and money to improve habitat for upland birds, especially pheasants. Some even own or have access to equipment such as seed drills to help you with your restoration. The PF chapters link above will help you find contact information for a chapter near you.
See the listing below to find a Wisconsin Pheasants Forever Biologists.
20220924-2