New Liability Insurance for Prescribed Fire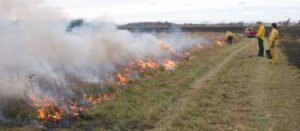 Liability insurance for prescribed fire has been a huge problem for decades. Multiple surveys land managers, contractors and landowners consistently put the lack of affordable liability insurance among the top five barriers to getting more good fire on the ground. The lack of this insurance prevents many forest industry professionals and restoration contractors from offering prescribed burning services. Others avoid offering prescribed burning among their services because the insurance that is available is not affordable. This is especially true for companies that would likely only conduct a very small number of burns each year.
A new insurance carrier entered the market making coverage available to qualified practitioners across the United States (except: CA, OR & WA). Effective January 1, 2023, Forest Specialty Underwriters, Ltd. along with Lloyds of London, is offering liability insurance coverage for those who plan or conduct prescribed burns. This coverage is available to qualified burners regardless of whether prescribed fire is a focus of your business or you only burn occasionally.
Potential Liability Insurance Applicants:
Prescribed Fire Contractors
Environmental Consultants
Wildfire Resource Consultants
Landscape Contractors and Engineers
Private Natural Resource Managers including Ecologists, Foresters and Wildlife Biologists
State & Federal Agencies involved in Fire Management
Municipal & County Natural Resource Managers
Non – profit Natural Resource Management Organizations
RFD & VFD Personnel
Fire Protection Organizations and RxFire Associations, Councils and Cooperatives
Forest Preserve Districts
Some Prescribed Fire Associations
Forestry Consultants
Timber Buyers
Logging
Coverage limits include $10,000 per day $100,000 total for fire suppression costs and $1,000,000 for overall liability.
Contact:
Forest Specialty Underwriters. Ltd.
phone: (877) 295-8086
email: info@forestspecialty.com
url: www.forestspecialty.com