Wisconsin's World of Cranes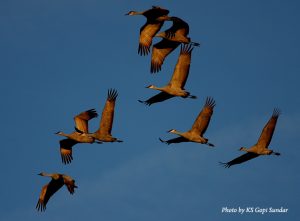 Nearly every Wisconsin landowner is familiar with Sandhill Cranes. Even if your property sits on a hilltop like mine, there is no mistaking their incredibly beautiful trumpeting, as well as the way their massive wings seem to blot out the sun as they fly low over the treetops. Those who are lucky enough to have wetlands may well host these magnificent birds. Likewise, properties without nesting pairs can host spring and fall migrants. A new webinar series from the International Crane Foundation (ICF) aims to peak your interest in cranes, those we know and those that might be less familiar.
Most of us have at least heard the stories of how wildlife managers are working to re-introduce the lovely white whooping cranes back to Wisconsin. While still rare, whooping cranes are making a comeback in several locations across the center of the state. Unlike their sandhill cousins, whoopers completely disappeared from Wisconsin in the middle of the last century. Most whooping cranes are nesting in the USFWS reservers with established whooping crane management programs. Some, however, are nesting in sites of their own choosing.
Giving Cranes Helping Hand
You may not know that the recent success of crane is no accident. Wisconsin has invested heavily in wetland restoration especially in the middle of the state. Our secret weapon, however, is a small non-profit organization outside Baraboo called the International Crane Foundation.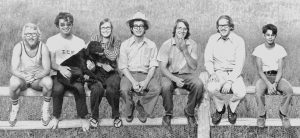 Two Cornell University students, George Archebald and Ron Sauey set up the first of its kind crane facility on the horse farm George's parents owned. The International Crane Foundation was created from its beginnings with the ambitious mission to conduct research, breeding, reintroduction, management and education for the world's fifteen crane species.
Today 74 researchers, land managers and ecologists from the International Crane Foundation can be found in 50 countries across five continents. They work with host governments and local non-profits to save and protect all fifteen crane species. This international effort makes ICF the leading protector of crane worldwide.
The ICF headquarters facility is now 300 acres, housing approximately 100 cranes which represent all fifteen crane species. Until the COVIT-19 pandemic stopped public access, their facility annually hosted 25,000 visitors. Even more unfortunate is that the facility just completed a major renovation that promises to greatly improve your experience.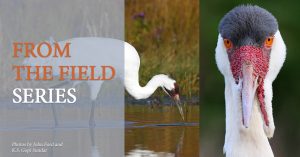 Becoming a Better Crane Neighbor
You can join this series of webinars every Thursday beginning at 11:00 AM central time. Each seminar is recorded and available to stream from their site, as well. This library of presentations spans different crane species, a variety of research topics, as well as Q&A sessions with international crane experts. While you are at the ICF site, check out their other educational offerings and events.
The International Crane Foundation is yet another reason why Wisconsin leads the nation in land stewardship. ICF is a blessing to those of us who are lucky enough to own a piece of Wisconsin's natural heritage. They teach and inspire us to improve crane habitat on our land. Find out how you can make cranes more welcome on your property.
For more information contact:
International Crane Foundation
E11376 Shady Lane Road
P.O. Box 447
Baraboo, WI 53913 USA