Why Are Invasives So Bad?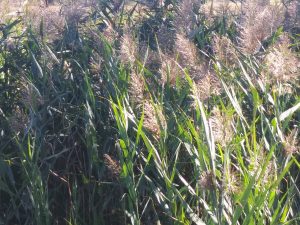 For the past year, I have been fielding questions about conservation, biology and invasive species on the forum Quora. It gives me a chance to hear the questions and concerns that people have and give back to the community. Questions I think Conservation Digest readers might be interested in have found their way into the FAQ section of this website.
This question appeared last week. Below is my response. After reading it, I hope you see what motivated me to create the website and write this blog.
Invasive garlic mustard, honeysuckle and buckthorn have all but wiped out spring wildflowers from the woodlands of southern Wisconsin. Japanese knotweed crowds out everything along stream banks where it becomes established. Wild parsnip causes serious chemical burns when the sap gets onto the skin. Cattails take over wetlands reducing open water for waterfowl and displacing the native sedge, reeds and wetland wildflowers. Phragmites (common reed) creates such dense stands that waterfowl cannot use the wetland.
Those four sentences capture a small portion of the problems caused by invasive plants that plague natural areas in Wisconsin. They only begin to scratch the surface of the issues created by invasive species.
Check out our new webpage About Invasive Species to learn more about the problem and how to prevent new invaders from getting a foothold in Wisconsin.