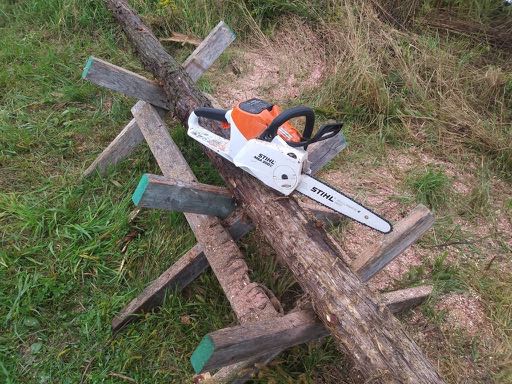 If you are like me, you think a battery operated chainsaw is only for the suburban homeowner who wants to remove the bottom branches from a Christmas tree or occasionally clean up the stump from a tree limb; nothing serious.
But wait a minute. I spend most of my time clearing brush and small trees; that is what woodland and savannah restoration is all. So why am I hauling around a two gallon gas can, yanking on a starter cord and cursing every time I flood my gas saw?
With the MSA 200-C, Stihl has a credible chainsaw for landowners who spend most of their time doing just that kind of work. It is rated for 45 minutes of continuous operation. That might not sound like a serious chainsaw, but think about it. An electric chainsaw only operates when the trigger is being pulled.
Stihl designed its battery chainsaw to look and operate nearly the same as similar gas models. The chain break works like a champ. Even though there is no danger of an idling chain accidentally cutting me, I still engage the break whenever I move with the saw.
This is where I admit that I am not a big fan of the chain tensioner system that Stihl uses on their small saws, gas or electric. The thumb wheel is too small and stiff for gloved hands and while the Quick Chain Adjuster is faster than hex nuts, it tends to loosen up much faster, causing the chain to jump off the bar.
Overall
The Stihl MSA 200-C is easy to use and maintain. The battery fully recharged in 30 minutes. The Stihl chainsaw seemed to have somewhat more power than the Husqvarna battery saw tested last year. The Instruction Manual contains detailed information about operation and maintenance.
Retail price is around $330. That price does not include batteries at $175 each and charger that sells for $40.
Field Tests
I put the saw through three different tests, each designed to gage its performance on three of the most common jobs you face in the woods.
Chainsaw Test 1: Brush and saplings
I don't know about you but I spend more time clearing honeysuckle, buckthorn, and similar brush; not to mention the saplings of such low value trees and boxelder and silver maple.
These species do not require a great deal of power, but they are everywhere. Every year, trying to catch up or keep up with shrubby growth eats up more time than any other single chore.
This is the first job a battery chainsaw has to prove itself on. If I can stay out in the field all morning without the battery going dead, that is a saw I will consider buying.
The first test started with a patch of sumac and scattered small hardwood saplings. The area was cleared and burned several years ago, but has started brushing back in. It took around 90 minutes to clear this area, including cutting back enough brambles and wild grape vines to get the other brush cut. Stumps were treated with 25% gallon 4 in bark oil.
As expected, the MSA 200-C chewed through this small stuff with no problem. Its 12″ bar made the job so much easier than the 24″ bar my gas saw carries. It is lightweight and well balanced. Ease of use is a big deal when you are in heavy brambles when maneuverability makes a difference; no taking the trigger to control the idol, no time lost stopping and starting the saw when crossing fences or dead falls.
The second site was a stream bank where beaver gnawed the sapling trunks years before. Those stumps, now re-sprouted, sported 2-4″ stems 6-10′ tall. Again, these were not big trees but required making flush cuts at ground level below the beaver damaged stumps. This patch took 2.5 hours and left me with a burn pile six feet wide, fifteen feet long and seven feet tall. As with the other patch, all stumps were treated to prevent re-sprouting.
"The equivalent work would have burned 3-4 tanks of gas."
The equivalent work would have burned 3-4 tanks of gas. A single spare would have probably gotten through the afternoon. So, instead of carrying a can of saw gas back and forth to the truck, you can probably cut brush pretty much all day with one spare battery.
---
Chainsaw Test 2: Bucking firewood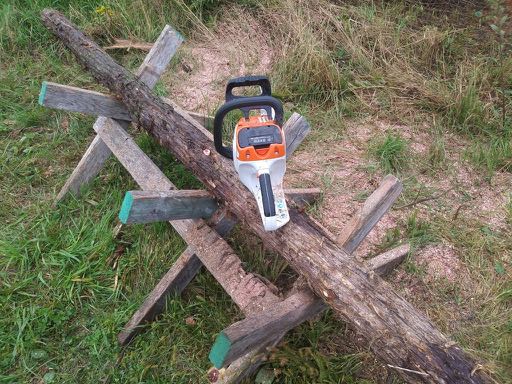 Okay, so this was not a big test. Heavy rains cancelled other work, so I headed to a pile of red cedar trunks piled up after last year's savannah clearing. It was just me, the MSA 200-C and a sawbuck. I build pollinator houses to encourage wild bees and other insects to set up housekeeping near native plantings. Think of it as workforce housing for the world's biggest free labor pool. I cut each trunk into 3″ sections. I drill each section through with multiple holes. These holes let pollinators can seek shelter and lay their eggs in the fall.
Cutting up four trunks took about 45 minutes. In the end, I had two boxes of sections for my bee houses. The MSA 200-C walked through every cut, regardless of how wet or dry the log. No balking of bogging down. Nice clean straight cuts.
---
Chainsaw Test 3: Tree felling, limbing and bucking
Finally, I wanted to pit this little mighty mite against a grown-up tree. In this case, I was a 16″ diameter boxelder. I chose that tree because I wanted to see how the MSA 200-C would handle a complex felling problem.
This tree had a slight lean in the wrong direction, which meant I would need to use plunge cuts wedges to counter the lean. As the bar on the MSA 200-C is only 12″ long, there would need to be two opposing plunge cuts through the middle of the trunk. I also made two matched face cuts in the direction I wanted the tree to fall.
The face cuts were smooth and easy to match up from both sides. The plunge cuts did bog down the saw. It automatically stops when asked to do too much work. All I had to do was pull the bar our an inch, release the trigger and pull a second time. The saw jumped back to life and went back to work where it had left off. Both plunge cuts came off without a hitch leaving a nice hinge and plenty or room for the wedges.
Once wedged, I went for the release cut. I made the plunge cuts far enough back so that I was able to make a single release cut. The whole process went without a hitch. The tree came down in a safe and controlled manner, exactly on target.
"The tree came down in a safe and controlled manner, exactly on target."
Limbing was quick and easy. I can say with honesty that was able to complete the job, including bucking up the trunk, with a single battery. Full disclosure — there was only enough battery to cut the trunk to timber lengths rather than stove wood sections. I had to stop and pull the trigger again several times to get through the last large cut.
Maintenance
Cleaning the MSA 200-C is nearly identical to an MS 210 gas powered saw, including the chain tensioner system. Removing the housing and thoroughly cleaning is particularly important when brush clearing as small twigs, stems and even grass can bind the clutch.
Make sure to remove the battery prior to sharpening the chain. This prevents the saw from accidentally running while you are trying to sharpen the teeth. I simply recharged the battery while sharpening the chain. Even with the Stihl 2in1 Easy File Chainsaw Chain Sharpener, the exceptionally small chain has 1/4″ cutting edge which I found to be more difficult to keep aligned than the normal 3/8″ chains.
Conclusion:
While a single battery got me through a medium sized tree, it just barely made it. The MSA 200-C will not replace a large gas powered chainsaw or even my Stihl 361 for felling trees. Its reliability, great power to weight ratio and maneuverability make this an excellent choice for brush work. Its easy handling also means it will handle limbing like a champ. This might just be my second saw.