Get Active in the Woodland this Spring
Spring in the woodland brings promise and challenge. Yesterday saw the first violets of the spring on the squirrel farm, a five acre woodland property my wife Anette and I recently purchased. These blossoms, however, are in our lawn where the abundance of sunlight and relatively dry soil no doubt hasten their display. Anette spotted our first pileated woodpecker in the top of a dead elm along the driveway.
Last week, a male bluebird set up residence in the backyard. He enjoys using a five foot tall stump in the middle of the yard as his primary perch. From there, he has a 360 degree view of his domain; his proud stance and fluttering wings announcing him dominance to any would be rivals.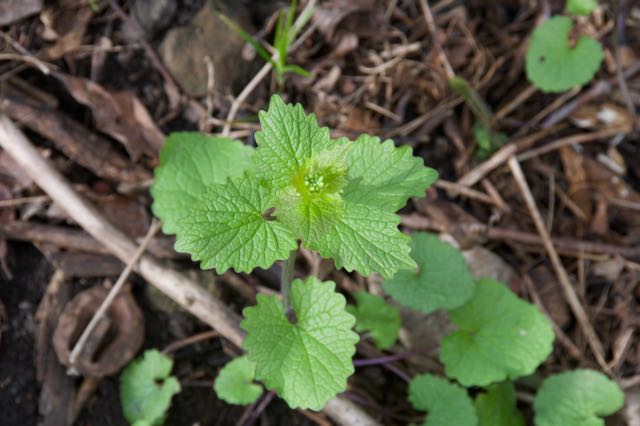 Invasive shrubs threaten the squirrel farm
While the cool April holds back many from breaking their winter dormancy, garlic mustard thrives with some plants already setting flower buds. The property has patches up to twenty feet in diameter, with a larger stretch along the banks of an intermittent stream. Scattered plants elsewhere on the property promise an uncontrollable problem if the infestation is not dealt with in the year or two.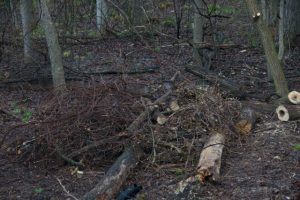 Common buckthorn is another serious problem at the squirrel farm. Because we were not able to get into the woods until a few weeks ago, my first priority was to cut and stump treat as many large, seed producing, trees as possible. Leaves are now beginning to emerge. That means sap is flowing. Because the roots are pushing flow upward, the stumps will not absorb the Garlon 4 and carry it down to the roots. This translocation will only resume once the trees have bloomed and leaves have fully opened. That will not happen until sometime in mid June. My hope is to have buckthorn cut and stacked for burning when the snows arrive in December.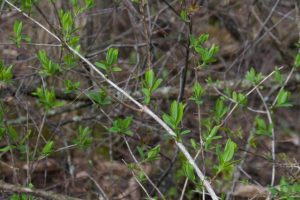 Another invasive shrub is the bush honeysuckle. Yes, the squirrel farm also has it share of this bad boy of the woods. Because it emerges even earlier than buckthorn, I got to deal with only a small portion of the bushes scattered across the squirrel farm. And like buckthorn, it will need to wait for late summer and fall for removal.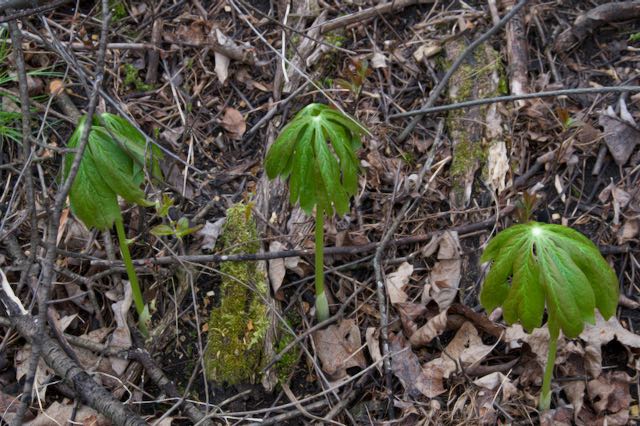 Spring brings the promise of better times
Mayapples began emerging last week and are now beginning to spread their umbrella shaped leaves. Heavy shrub growth has changed the character of Wisconsin woodlands over the past forty years. Many spring wildflowers that were once common are all but gone from or woodlands. One of the most robust woodland spring wildflowers, mayapples can persist in deep shade that prevent many of their native neighbors from thriving.
My challenge is to remove those invasive shrubs and open up the canopy enough to allow native woodland wildflowers to return. Once light reaches the ground other woodland flowers and grasses will once again take up residence.
Those ground layer plants, along with leaf litter will provide enough fuel to permit returning fire to the land. Southern Wisconsin was, until European settlement, a landscape dominated by fire. Lightning and fires set by Native Americans regularly burned the prairies, savannah and open woodlands the covered much of the lower two-thirds of the state.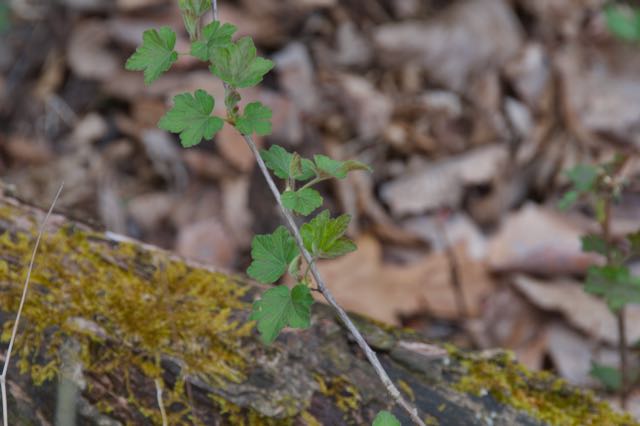 A fire dominated land
The squirrel farm was dominated by red oak, white oak and bur oak. Because of the slopes and rocky soil, those trees were probably scattered so widely that their branches seldom touched. Oak trees have relatively thick and corky bark. The wildfires that regularly visited the squirrel farm prevented shrubs from getting established. Likewise, fire killed maple, cherry, black walnut and other tree species whose bark could not tolerate fires of even low intensity and short duration. Grasses and wildflowers bounce back quickly from fires, their roots taking up the nutrients left in the ash.
As a result, the squirrel farm probably resembled a park like setting; the hillside dotted here and there with large spreading oak trees. The stream would have hosted shagbark and possibly bitternut hickory, owing to the moist soil and higher humidity. The abundance and variety of grasses, sedges and wildflowers would have provided food for a wide range of bugs, spiders, and all manner of insects; both crawling and flying. These would have supported abundanant wildlife, small and large.
Our farming neighbors will continue to make sure that the deer population is kept well fed with corn and grass. The landowners who neglect their woodlands will keep squirrels supplied with hickory nuts and black walnuts. My mission will be to provide homes for badgers and bobcats; grouse and woodcock. A healthy plant community makes abundant wildlife possible.