Remember to Thank the Turkey
Thanksgiving is the time of year when we give thanks for bountiful gifts that come to us throughout the year. While many Wisconsinites equate Thanksgiving with the fall deer hunt, everybody can agree that the true symbol of the holiday is the turkey. Why not thank the turkey?
Whether your table features a wild or domestic bird, whether it is fresh or frozen, the centerpiece of the holiday table is a turkey. Wild turkeys were hunted to extinction in Wisconsin by 1881. They only made a return in 1976, when the Wisconsin DNR traded 29 pairs of ruffed grouse with Missouri for wild turkey. The DNR released those first birds in Vernon County. They thrived in their new home so much that the DNR trapped 3,000 birds and transplanted them to 49 counties across the state. Today, you can find wild turkey everywhere, even beyond their traditional home range.
Private landowners across Wisconsin are a great place to start. They provide habitat for wild turkeys. Because of them, we all enjoy the return of wild turkeys to our woodlands, meadows and wetlands. The Land Conservation Assistance Network helps private landowners improve conservation practices that benefit wild turkeys, as well as other Wisconsin wildlife.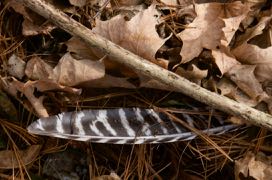 Those wild turkeys did not just appear on the Wisconsin landscape, however. Groups like the National Wild Turkey Federation, give private landowners advice though their Landowner's Tool Box. Local chapter members also assist with work days that help improve turkey habitat across the state.
Most of us will sit down to a traditional Thanksgiving turkey dinner featuring domestic turnkey with all the trimmings. Let us take a minute to thank the turkey farmers that raised the bird that graces our table.