Learn to Burn
Have you considered prescribed fire but were afraid because you did not know how to do it safely? Dane County Parks is a great place to get the training and experience to do the job right.
Every year, volunteers help Dane County Parks crews conduct prescribed burns on county land. This is a great way to give back to the community while you gain the knowledge and skills needed to safely use fire on your land.
As a volunteer with Dane County Parks, you will learn from natural resource professionals with years of experience planning and conducting controlled burns.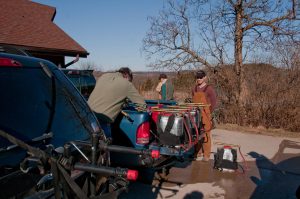 The burns you help with will improve wildlife habitat while knocking down invasive weeds and shrubs. Prescribed fire also increases the number and diversity of native plants, which improves the soil, reduces erosion and improves water quality in adjacent lakes and streams.
The county will hold prescribed fire training for volunteers on March 30, 2019 from 9:00 am – 2:00 pm at the Lussier Family Heritage Center, 3101 Lake Farm Road, Madison. Lunch will be provided. Contact Lars Higdon, Dane County Naturalist, for more information.