Buckthorn Blaster Rocks Brush Clearing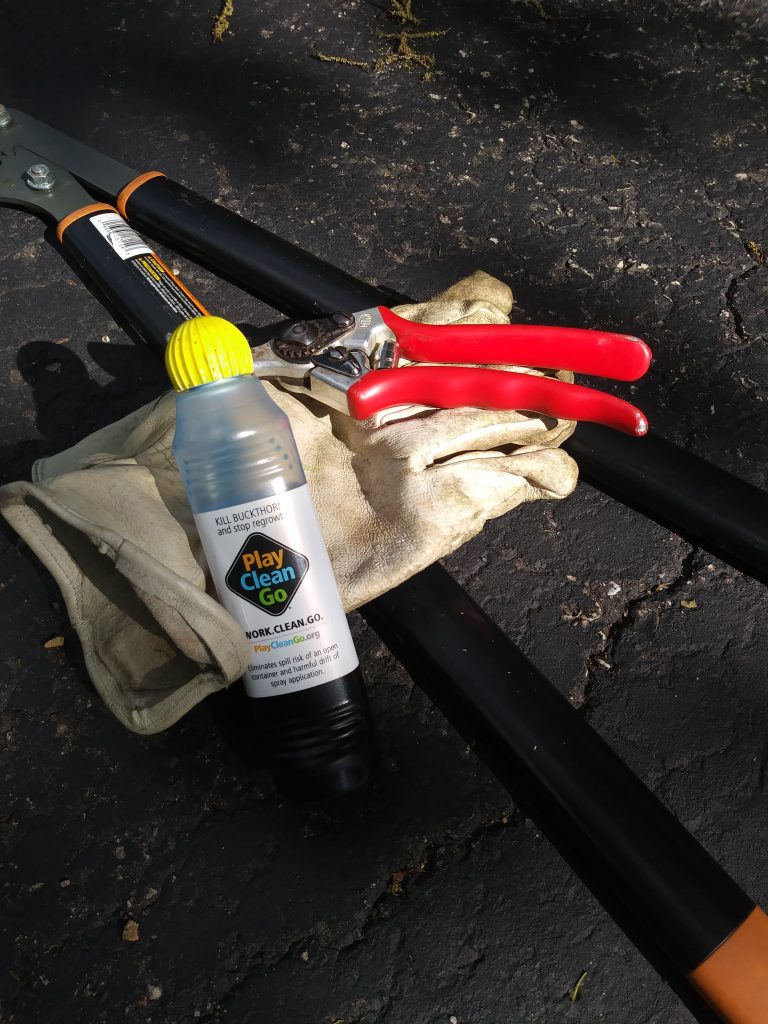 Some ideas are incredibly obvious, once you see them. The four once Buckthorn Blaster is just that kind of product. This simple herbicide applicator will change the way you cut and treat invasive brush on your land. If you are like me, you hate using spray bottles to apply herbicide to the cut stumps of wood brush. Most of us use the best two dollar squirt bottle we can find and curse a few weeks or months later when it quits working. I hate going home at with blue fingers on my gloves. I swear under my breath too many times every day when I pull the trigger and nothing comes out only to have the next pull shoot a stream of chemical out; most of which misses the stump. Expensive pressurized sprayers are bulky and must be frequently pumped up. The Buckthorn Blaster is a simple four ounce plastic bottle with a dense foam stopper that applies chemical to cut stumps much like a liquid shoe polish applicator. If you can polish you shoes, you can treat stumps with the Buckthorn Blaster. I use a 1:3 tryclopyr to bark oil mix, which is hotter than some folks but not as strong as others prefer. Both the herbed and bark oil are expensive. A 24 ounce spray bottle of cut stump mix cost around $10.00. It is common to go through half of that bottle during the course of a day. During the two hours I used the Buckthorn Blaster, I used just two ounces of chemical mix. The Buckthorn Blaster reduced the chemical use by one third. The number of stumps increased at the same time. Again, because the chemical only lands on the target stump I got more stumps treated between refills. More stumps with less chemical means 2-3 better invasive control in the woodlot. My spray bottle will often drip a little, especially when it tips over on uneven ground. The Buckthorn Blaster never drips. It only puts chemical on the stump where it is pressed. That means no off-target damage of nearby native plants. The small four once size makes it easy to carry in one hand while wielding a hand pruner in the other. When using loppers, I can hold the bottle while simultaneously cutting brush. Being more efficient means clearing more brush in less time. The bottle comes with three dense foam tips and a tool for changing tips. Removing the tip to refill the bottle takes some care and can be a bit messy. That is my chief complaint but paper towels make the job fairly painless. The Buckthorn Blaster can be used with any cut stump liquid herbicide mix. I keep my bottle in a ziplock bag and toss it in my daypack, along with hand pruners, whenever I walk the property. It rides in the thigh pocket of my chaps when doing chainsaw work. What could be more convenient for taking care of that nasty shrub that pops up along the trail?
"More stumps with less chemical means 2-3 better invasive control in the woodlot."
Finally, while the $8.49 price tag is a bit steep for what it is, the money goes to support the work of a really great organization. The North American Invasive Species Management Association (NAISMA) supports those battling invasive species of all types. They are a key sponsor of the Play, Clean, Go program that educates boaters about aquatic invasive control. For private landowners, Play, Clean, Go provides boot cleaning stations at public trailheads; encouraging hikers to clean their boots. That helps prevent the spread of garlic mustard and Japanese hedge parsley seeds. The NAISMA biennial conference brings together academics, practitioners, landowners and land managers to share the latest information about invasive plants and animals across the US and Canada. Consider joining NAISMA when you buy your buckthorn blaster. Tap into their deep well of conservation management experience.
[Update 8/9/2020] NAISMA now sells five packs of Buckthorn Buster replacement tips. I don't know about you, but I treat hundreds of stumps from large boxelder to tiny buckthorn sprouts during a single day. the rough surfaces and jagged edges take their toll on the foam. The Buckthorn Buster ships with three tips, however, I find myself replacing tips daily when treating tiny sumps that poke holes in the foam. Fortunately replacement tips cost $3.99 for a five pack.