Suburban Ready Cordless Mower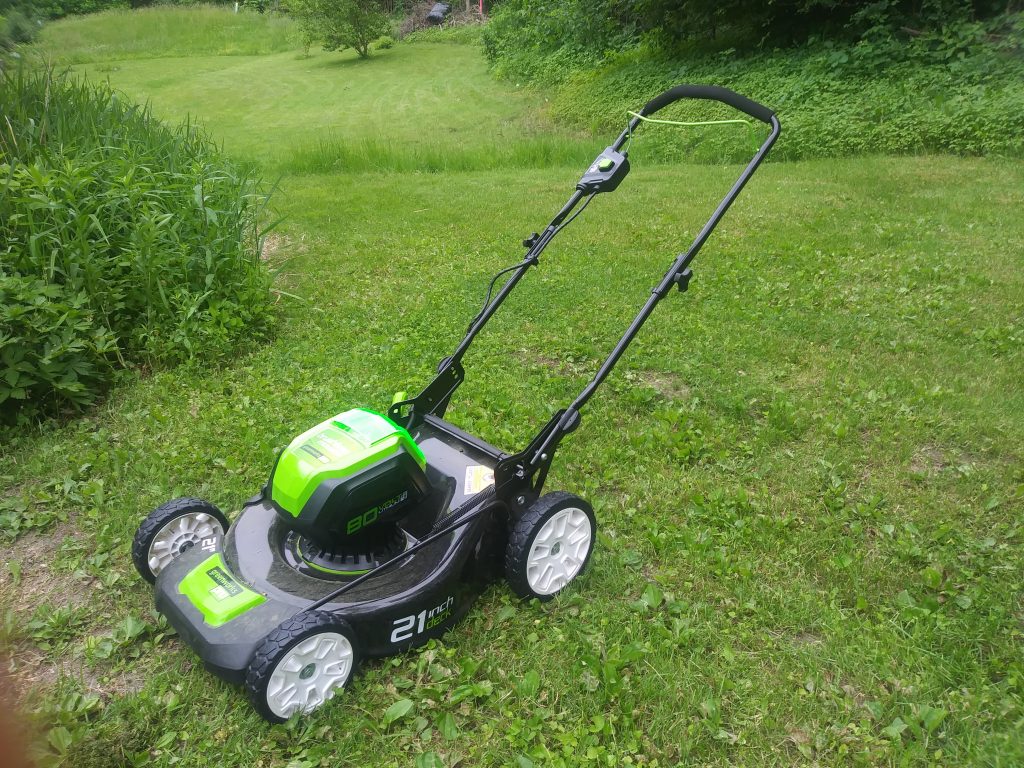 Greenworks has marked a cordless mower that is powerful enough to take on suburbia and beyond. Our five acre woodland property has nearly an acre of mowed lawn. There were tight spaces, tall grass, uneven ground, steep slopes, and saturated soils; in short, all the good stuff. The GLM801601 was more than up for the challenge.
Initial assembly was a snap. Just popped on the handles and plugged in the 80V battery. The mower comes with two batteries and charger that takes only 30 minutes. In practical terms, that means the second battery was charged in the time it took me to use up the charge on the initial battery. So, it should be possible to keep mowing; stopping only once every half hour to swap batteries. That compares favorably with filling the tank on a gasoline mower.
Operation could not be easier. Press the start button and pull back on the dead-man handle. The cordless mower starts a second later taking only a couple seconds to reach full speed.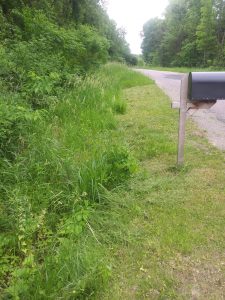 The GLM801601 has a 21″ cutting width, which is standard for most walk behind mowers. It has two power settings, based on the the thickness of the lawn. The mower switches automatically between normal and overdrive when encountering thick grass. [Caution: overdrive drains the battery much faster so be prepared to cover less lawn on a charge.] The cordless mower did not seem to down-shift back into normal operation as quickly as I would have liked. I found myself several times stopping and re-starting the mower after it left the heavy grass, to make the battery last longer.
There are three operating modes for the GLM801601. A rear bagging attachment easily drops into place after lifting the rear discharge door. The grass catcher is sturdy and easy to empty. a side discharge shoot snaps into place under the side discharge door. It did not take too much of a bump to knock the shoot off — easy on; easy off. This could be annoying if you regularly find yourself bumping into obstacles or the right. The final mulching mode chops up grass clippings and leaves them on the lawn. For our lawn, the mulching option works just fine, especially as we mow high and tend to leave clippings as natural fertilizer.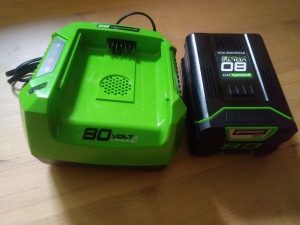 One big advantage is that Greenworks makes tools that share batteries. Those tools can be purchased as "bare tools." So, the batteries you use for the mower can also power your snow blower, leaf blower, string trimmer and even a chainsaw. While the Greenworks battery chainsaw will not replace my Stihl 361 for felling trees, it will work great for clearing brush and small trees like buckthorn.
Greenhorns Pro 21" Cordless Mower GLM801601
499.00
Pros
Easy to use
Low maintenance
Trouble free operation
Reliable
Fast charging
Cons
Limited battery life
Discharges fast in tall

grass