Whoop it Up Tomorrow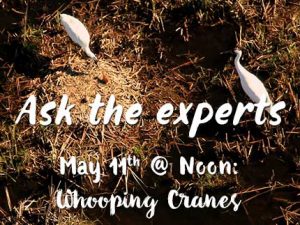 Learn more about whooping cranes and their long journey from the brink of extinction during a Wisconsin Department of Natural Resources "Ask the Experts" chat at noon tomorrow, May 11th.
Spring migration is completing, the breeding season is underway and the Whooping Crane Eastern Partnership is busy hatching eggs and monitoring nests across Wisconsin. Efforts are proceeding to again have a group of chicks raised in captivity by adult whooping cranes. Conservation biologists also are optimistic they will get more wild-raised chicks to fledging age.
Contact Davin Lopez, DNR conservation biologist, 608-266-0837 for more information.