Snapshots Improve Wildlife Management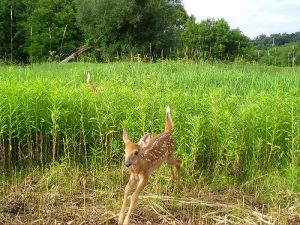 Better wildlife management requires better science. Better science needs improved data. As a private landowner, you can help provide that better information that Wisconsin wildlife managers need to make better decisions.
Private landowners manage the majority of wildlife habitat in Wisconsin. While it does not seem like it sometimes, we manage most of the property on which our game and non-game species live.
Snapshot Wisconsin is a volunteer based monitoring effort to capture images of all types of wildlife including deer, elk, bears, fox, bobcats, whooping cranes and more to learn more about Wisconsin's wildlife. This project is led by Department of Natural Resources staff in partnership with the University of Wisconsin-Madison and UW-Extension.
This project offers a unique opportunity to view wildlife in their normal routines in the wild and data collected will help researchers better understand Wisconsin's ecological landscapes. To date, 604 volunteers currently maintain 687 trail cameras – 10,336,444 photos have been collected.
"Snapshot Wisconsin is a great way to get involved in volunteer-based monitoring and learn more about all of our different wildlife species," said Susan Frett, one of the volunteer coordinators working on the project. "We have volunteers in Wisconsin participating as trail camera hosts and approximately 4,000 volunteers from around the world participating in crowd-sourced classification of our images on www.snapshotwisconsin.org."
If you are a landowner with access to at least 10 acres of contiguous private land in Dane, Grant, Rusk, Taylor, Marathon or Clark county and agree to maintain a trail camera on that land for at least one year. Training and supplies are provided and no prior experience with trail cameras is necessary. Basic computer knowledge and access to the internet is necessary to participate. Local, in-person training sessions are currently planned for July and online training is also available.
Snapshot Wisconsin is also recruiting applicants in Dodge, Iowa, Iron, Jackson, Manitowoc, Marinette, Oneida, Racine, Sawyer, St. Croix, Vernon and Waupaca counties. Tribal members or affiliates on tribal lands and educators throughout the state are also encouraged to participate. Additional counties will be added over the next few years.
Volunteers can sign up by visiting www.snapshotwisignup.org or find out more details by contacting Susan Frett, DNR Snapshot Wisconsin program, 608-221-6323.