Identify Tree Pests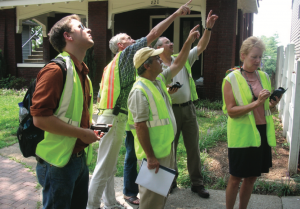 There are plenty of brochures to help landowners identify tree pests. I have a file folder full of publications pests like emerald ash borer. If you are like me, I see something that does not look quite right and want to know what's going on. It may be nothing, but then maybe it is a real problem — time to figure out which.
Bring in the Experts
Fortunately, for those of us who live in Wisconsin, the UW Madison has experts whose job it is to diagnose tree problems for Wisconsin residents. The Plant Disease Diagnostics Clinic has an experienced plant pathologist who specializes in plant disease diagnostics. Additionally, the Wisconsin Insect Diagnostic Lab handles plant pests like insects, bugs, aphids, caterpillars. Questions or images can be sent to the Wisconsin bug guy, PJ Liesch: pliesch@wisc.edu.
Many of us prefer the do-it-yourself approach when dealing with tree pests. We want to know what we are seeing in the field without sending off samples and waiting for results. If you are like me, knowing for myself is better than having to depend on somebody else. I contact these folks for touch calls; they are great. I just do not want to load them down when I can figure the problem out for myself.
Do It Yourself
The Inventory Pest Evaluation and Detection (IPED) method provides an effective way to diagnose tree pest or disease problems. You can use this clear, simple and accurate way to detect and monitor pests wherever you live. The IPED Field Guide will help you identify the signs and symptoms of tree stress, insect pests, and diseases, letting you to make informed decisions. This guide is not intended to be used for diagnostic work, but rather as a resource guide to help you use the i-Tree Streets application at: http://www.itreetools.org/(link is external).