Get Fired Up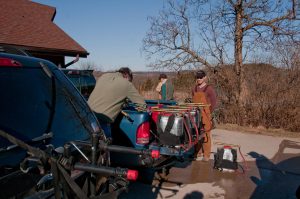 It's that time of year again; time to get the burn gear ready to go. An early thaw has brought the spring burn season by several weeks. Though this weekend has been a washout, crews were already in the field last week and will be heading out again as soon as the fields and woodlands dry out.
A number of non-profit organizations conduct controlled burns across Wisconsin. While they typically only work either on public lands or property that they manage, volunteering as a burn crew member with them is a great way to gain the knowledge and skills needed to do controlled burns on your own land.
The Prairie Enthusiasts own or manage several thousand acres across southern and southwestern Wisconsin. Burn crews work many afternoons and weekends throughout the spring until the green up of native plants and bird nesting brings the season to an end. For more information or to get on their burn crew email list contact Rich Henderson.