A sure sign of is the annual Conservation Congress. Each year, Wisconsinites get a chance to engage in direct democracy as each county holds a town hall style meeting. Sporting, outdoor and environmental groups show up to make their voices heard. This year's spring hearings take place on Monday, April 9th at 7:00 PM. Every county holds it own hearing. [Click here for the location of the hearing in your county.]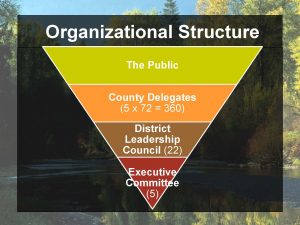 Conservation Congress Agenda
The agenda for each meeting is the same:
Registration
Voting Instructions Notice of Public Hearing
WCC – Delegate Elections
Conservation Congress Delegate Election Process
County Deer Advisory Council Update
2018 Preliminary County Deer Permit Recommendation
DNR – Wildlife and Fisheries Public Hearing DNR Fisheries Advisory Questions
DNR Wildlife Advisory Questions
Natural Resources Board Advisory Questions
Citizen Resolutions
Conservation Congress Resolution Process How to Write a Resolution & Sample Resolution
Wisconsin Conservation Congress County Meeting Conservation Congress Advisory Questions
This year there are balloting for 360 elected delegates and 54 statewide questions before each county hearing. Among the topics up for consideration there are four questions about boat permits for non motorized watercraft. Another question deals with a $5.00 permit for use of fishery, wildlife and natural areas to provide money to help manage those 1.5 million acres of public lands.
Many of the questions deal with specific resource issues such as bag limits for certain fish species on particular lakes, trapping rules in specified areas. Check out the 2018 Spring Questionnaire for full details.
One question proposes lifetime fishing and hunting licenses. Two other questions have to do with conducting scientific studies that deal with several climate change issues.
Looming Software Crisis
A thunderstorm is brewing on horizon as the current computer system used to tabulate results from each of the 72 counties is so old that its supplier is totally cutting off support for the application at the end of 2018. So far, no replacement has been selected. As a matter of fact, there have not even been any specifications published. According to Wisconsin Outdoor News, the committee tasked with making recommendations is at the Conservation Congress convention in May.
WDNR Liaison Kari Lee-Zimmerman, "We're not going back to paper ballots." With that option off the table and continuing with the current software likewise unavailable, the time is getting late to come source, procure, install and test a replacement system by April 2019.