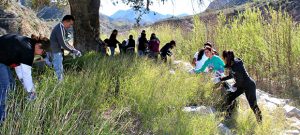 Many hands make light work. When it comes to getting rid of invasive plants like Garlic mustard, Phragmites and Japanese knotweed working together as a community can be the only effective way to get control of an otherwise retractable problem.
Across Wisconsin and the midwest public land managers, right-of-way supervisors and private landowners are coming together to form Cooperative Weed Management Associations (CWMAs). These groups identify and prioritize invasive species, create management plans and execute those plans to reduce noxious weed populations and improve the landscape for everyone.
The National Fish and Wildlife Foundation announced the 2017 Pulling Together Initiative Request For Proposals. The Pulling Together Initiative is now accepting applications for competitive funding. Details about this funding opportunity are provided in the Request For Proposals, and additional program information can be viewed at www.nfwf.org/pti. The process includes a pre-proposal stage; the pre-proposal submission deadline is July 12, 2017.
The Pulling Together Initiative program is inviting applications for competitive grant funding to promote the conservation of natural habitats by preventing, managing or eradicating invasive and noxious plant species. In 2017, the program will award grants to develop or advance Cooperative Weed Management Areas (CWMAs) and Cooperative Invasive Species Management Areas (CISMAs).
Eligible applicants include non-profit 501(c) organizations, federal, state, tribal, local, and municipal government agencies, and educational institutions. Approximately $850,000 is available in 2017 and grant requests may be up to $100,000.
If you are interested in finding out more, you can join a webinar on Monday, June 12 at 12 PM Eastern Time/11 AM Central Time to learn about the 2017 grant funding opportunity through the Pulling Together Initiative. You will learn about funding priorities and the application process, receive tips for submitting competitive proposals, and have the opportunity to ask questions. The webinar will last approximately 30 minutes. Please register at: https://attendee.gotowebinar.com/register/8045866934844885763
If you have any questions, please contact:
Caroline Oswald
Senior Manager
National Fish and Wildlife Foundation
Central Regional Office
8011 34th Avenue South, Suite 242
Bloomington, MN 55425
612-564-7253
Caroline.Oswald@nfwf.org | www.nfwf.org