DATCP Lists Palmer amaranth as Prohibited Noxious Weed
The Wisconsin Department of Agriculture, Trade and Consumer protection (DATCP) recently issued a new emergency rule listing Palmer amaranth (Amaranthus palmeri) as a prohibited noxious weed seed. Including it in a seed mix will now result in a civil or criminal violation for the seed labeler.
Palmer amaranth is a broadleaf weed that grows 2-3 inches a day. It commonly grows 6-8 feet tall, but may reach 10 feet. This plant has separate male and female plants, and the females may produce as many as 500,000 seeds.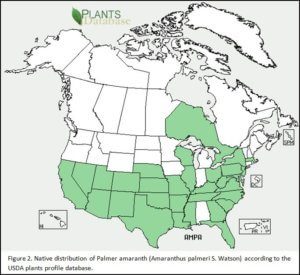 Though native to southwestern states, it became established in the southeast and began moving north. Pollinator seed mixes that contain Palmer amaranth were sold for use on Conservation Reserve Program (CRP) lands in Iowa, Illinois, Minnesota, Indiana and Ohio. More than half the counties in Iowa now report the new invader.
Identification
Palmer amaranth is related to water hemp and other "pigweeds", common in Wisconsin, and a casual observer might confuse the two. The leaf stem on the first true leaves are longer than the leaf blade, where water hemp leaf blades are longer than the leaves. The most obvious difference is the length of the seed heads. Palmer amaranth has seed heads that can be 12 inches or longer. Hence it can produce vastly more seed than its native cousin. Purdue Extension has an excellent video that describes the distinguishing characteristics.
Herbicide Resistance
Strains of Palmer amaranth have developed tolerance for the herbicide glyphosate, making control much more difficult. Farmers in other states started using dicamba but are finding that off target herbicide drift is a real problem for both surrounding crops and natural lands.
Keep In Mind
DATCP has the following advice. If you are planting a pollinator or conservation seed mix:
Find out what Palmer amaranth looks like. You can find many clear photos in an online image search.
Buy local

seed

mixes if possible, with no pigweed or amaranth listed on the label.
Thoroughly clean equipment after seeding, especially if your

seed

mix came from out of state.
Call your University of Wisconsin-Extension office if you suspect you have found Palmer amaranth.
Follow these tips for conservation planting—without weed seed come from our neighbors at the Minnesota Department of Agriculture:
Do not purchase unlabeled

seed

Check labels—and keep all labels used in a specific planting
If restricted noxious weeds are present make sure they're present at a rate of less than 25

seed per pound

Don't use

seed

with any prohibited

noxious weed

seeds
Ask seeding contractor for planting records including:

seed

lots planted in specific locations, planting procedures, site preparation and equipment used with equipment cleanout records
Keep invoices and paperwork
Contact your
local Extension agent
for the most current information about this and other
weed
problems on your land.