maple leaf viburnum
Viburnum acerifolium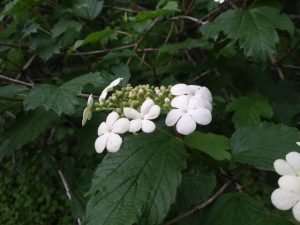 Description:
Stems:
Leaves: 3-lobed leaves
Flowers: Flat-topped clusters of white flowers
Fruit/Seeds: Berries turning from red to blue-black.
Locations:
Found in woodlands.
Impact:
Provides good nesting and escape cover for numerous species of birds and small mammals. The fruits of mapleleaf viburnum are eaten by white-tailed deer, rabbits, mice, skunks, ruffed grouse, ring-necked pheasants, wild turkeys, and many species of songbirds. The twigs, bark, and leaves are eaten by white-tailed deer, moose, rabbits, and beavers.
maple leaf viburnum
References:
Click here for the Native Plants Page