blue giant hyssop
Agastache foeniculum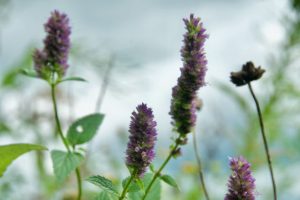 Description:
Agastache foeniculum, commonly known as anise hyssop or blue giant hyssop, is a species of flowering plant in the mint family (Lamiaceae). It is native to North America, where it can be found from eastern Canada down to the central and eastern United States.
Anise hyssop is a herbaceous perennial plant that can grow up to 3 to 5 feet (90-150 cm) tall, and 1 to 2 feet (30-60 cm) wide. It has an upright, branching habit with square stems that are slightly hairy and green to purple in color. The leaves are opposite, lance-shaped, and toothed, with a distinctive anise scent and flavor when crushed. The foliage is also highly attractive to pollinators, making it a popular choice in pollinator gardens.
In summer, Agastache foeniculum produces long spikes of tubular, two-lipped flowers that are lavender-blue in color and arranged in whorls around the stem. The flowers are highly attractive to bees, butterflies, and hummingbirds, and provide a long-lasting source of nectar.
Overall, Agastache foeniculum is a beautiful and fragrant perennial herb that is highly valued in gardens for its ornamental and ecological value.
Details:
blue giant hyssop
References:
Return to Native Plants page