common buckthorn
Rhamnus cathartica L.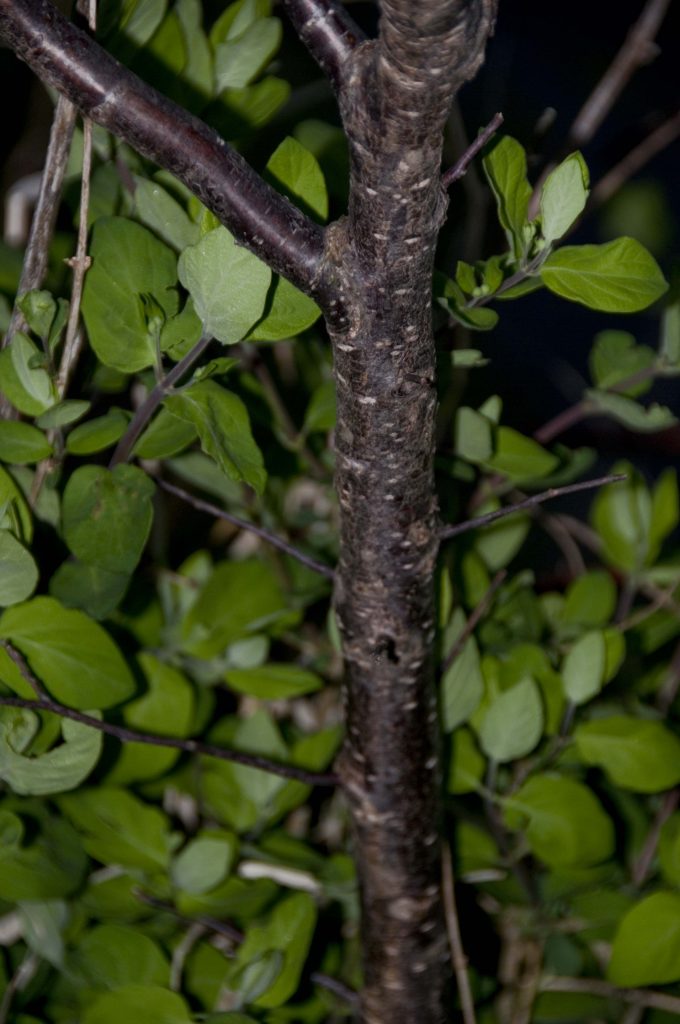 Description:
Leaves & stems: Ovate or elliptic, with prominent veins curving toward tip. Mostly opposite leaves, 1-2.5" long, with tiny teeth. Leaves remain on plants and stay green into fall. Bark is gray to brown with prominent light-colored lenticels. Cut bark exposes an orange inner cambium layer.
Flowers: Inconspicuous, small and clustered in leaf axils. Fragrant, greenish-yellow, 4-petaled flowers that bloom in spring.
Fruits & seeds: Abundant clusters of round, black, pea-sized fruit. Ripen on female plants in late summer. Dispersed by birds and mammals. Fruits remain on plants into winter after all the leaves have fallen.
Roots: Extensive, black fibrous root system.
Similar species: Glossy buckthorn (Rhamnus frangula; invasive) is similar to common buckthorn. Leaves are mostly opposite, with greater number of veins. Upper surface of leaves are shiny with undersides dull.
Alder buckthorn (Rhamnus alnifolia; native) is under 3' tall with thornless twigs. Lance-leafed buckthorn (R. lanceolata; native) is less than 6' tall, found in wet areas and on dry limestone slopes, and has alternate leaves, 2-6" long, gradually tapering to a point at the tip. Carolina buckthorn (R. caroliniana; native), found in the southern Midwest, is 10-30' tall with toothed, mostly alternate leaves, 2-3" long.
Source: Wisconsin DNR Invasive Species website.
Locations:
Found in woodlands, wetlands and prairies.
Impact:
Creates dense thickets where nothing can grow beneath it.
common buckthorn