This Week: April 9, 2021
Round-up of weekly news for Wisconsin landowners
---

HELP FOREST SCIENTISTS ADDRESS IMPORTANT ECOLOGICAL QUESTIONS – PARTICIPATE IN THE FOREST FUNGI PROJECT
The Forest Fungi Project is a community science project associated with the Lankau Lab at the University of Wisconsin-Madison. The project aims to engage the broader forestry and forest landowner community in the process of scientific research while generating data that will address important ecological questions. The Forest Fungi Project was launched in 2015, and we have since had more than 1000 soil samples sent to our lab by park volunteers, youth programs, K-12 and college students, forest landowners, and Master Naturalists – to name a few.
Why fungi? There are thousands of fungi that live in tree roots, called mycorrhizae, that help trees access water and nutrients. Given their importance to forest function, our lab is interested in the diversity and distribution (or the "who is where") of mycorrhizae fungi across eastern temperate forests – and we need your help!
Participation is easy. They are asking that you send tree roots from any forested location east of the Mississippi River. More detailed instructions are found on their website https://forestfungi.russell.wisc.edu/. Check out their sampling and shipping instructions, and feel free to contact them at forestfungiproject@wisc.plantpath.edu if you have any questions. Share this opportunity with your neighbors and other woodland landowners.
---
Invasive plant species represent one of the greatest threats to the health of your woods. Native plants and trees struggle to compete with these invaders and without active measures, our values for wildlife diversity, hunting, foraging, beauty, and much more, can be lost. The woods of today needs your care to be protected from the threat of invasive species.
---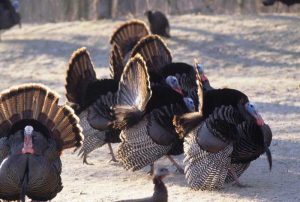 Nearly 38,000 Acres of Private Land will Open to Turkey Hunters
MADISON, Wis. – The Department of Natural Resources (DNR) announced that nearly 38,000 acres of private land will be open for public access to hunters this turkey season thanks to a partnership between the department and the U.S. Department of Agriculture's Natural Resources Conservation Service (USDA-NRCS).
With USDA-NRCS support, the DNR could partner with private landowners who lease their land for public access through the Turkey Hunter Access Program (THAP) and the Voluntary Public Access and Habitat Incentive Program (VPA-HIP).
In 2020, THAP added 5,200 acres that hunters can be used only during spring turkey hunting seasons. Another 2,300 acres were added to VPA-HIP for hunters to use throughout the year for hunting, fishing, trapping and wildlife observation.
---

Won't a prescribed burn during the wild turkey nesting season push these birds (and other wildlife) off of my land? You'd think, but if you want to know the truth of it, such a burn every three years (or so) can do just the opposite by creating conditions turkeys flock to.
Get the scoop on the phoenix-like drama you might create in your woods with a well-placed, well-timed burn. (Speaking of timing, please be aware of present high fire dangers in Wisconsin, and only burn with expert assistance when fire dangers are low. link here to DNR fire dance page.)
---

Join Nature Conservancy conservation staff for a virtual tour of Wisconsin woodlands,
wetlands
and prairies to learn about the rare and unique bird species that call our preserves home. Presenters also will share tips and tricks for how you can help support our feathered friends in your own yard. Live Q&A to follow. Please
register
in advance to join the live Zoom webinar.
---