Prescribed Fire Line Boss Training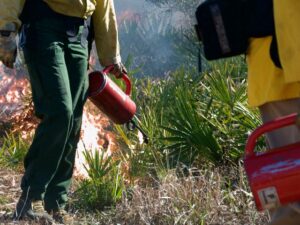 Those who are serious about prescribed fire, especially those who want to build a career in habitat restoration know how important it is to complete National Wildfire Coordinating Group certified training. Finding that training is difficult especially for more advanced courses and COVID makes finding that training even harder.
Here is an opportunity for those who have completed the initial firefighter training to take the next step. The Line Boss directly supervises a line crew, the basic unit of wildland firefighting or prescribed fire. NWCG course S-290 Intermediate Wildland Fire Behavior will be offered as an online course by Ken Terrill of Incident Management Specialist LLC. Ken is a qualified NWCG instructor and retired DNR supervisor with decades of wildland firefighting experience.
What truly sets this course apart from the standard S-290 offering is that Ken targets prescribed burners. He focuses on knowledge and tactics used to conduct safe and effective prescribed fire. This is additional information that is left out of typical intermediate fire behavior training.
You must successfully complete a pre-course test and twelve online modules including a module test. After completing the online portion of the course, you will complete additional course materials covering fuels, weather and topography.You will also complete a practical exercise to for a specific site in Wisconsin. ken will issue your NWCG certificate once all required coursework is successfully completed.
Because this course grants official NWCG certification, basic wildland firefighter certification is required as a prerequisite. You will be required to provide proof of completion of S-130, S-190, and associated FEMA Incident Command System training in order to apply.
Act now!
Registration for this unique online course ends September 1, 2022. The cost is $300.00.
[Click here] to open a course description, and registration form. You can email Ken Terrill for more information