Emerald ash borer webinar: Where do we stand?
When:
May 5, 2021 @ 1:00 pm – 2:00 pm
America/Chicago Timezone
2021-05-05T13:00:00-05:00
2021-05-05T14:00:00-05:00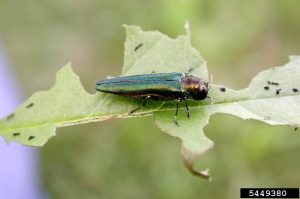 The emerald ash borer is an invasive insect that is killing ash trees in North America. Dr. Kelly Oten (NCSU) will provide a general overview of identification, impact, and management strategies for EAB in the southeastern U.S.
Emerald ash borer adult feeding on an ash leaf. Photo credit: Debbie Miller, USDA Forest Service, Bugwood.org
The emerald ash borer (Agrilus planipennis) is a destructive wood-boring pest of ash trees (Fraxinus spp.). Native to China, Mongolia, North Korea, South Korea, Japan, Taiwan, and the Russian Far East, the emerald ash borer beetle (EAB) was unknown in North America until its discovery in southeast Michigan in 2002. Today, EAB infestations have been detected in 35 states throughout the U.S. Since its discovery, EAB has killed hundreds of millions of ash trees in North America and cost municipalities, property owners, nursery operators and forest products industries hundreds of millions of dollars. Recently, USDA-APHIS changed its approach to fight the EAB infestation, and removed the federal domestic EAB quarantine regulations as they have not proven effective in slowing the spread. In this webinar, Dr. Kelly Oten (NCSU) will provide an update on EAB distribution, impacts, novel management approaches and steps we can take to limit population dispersal of this deadly pest.
Related URLs