Chainsaw Safety Course: Levels 1 & 2
When:
April 7, 2023 @ 8:00 am – 4:00 pm
America/Chicago Timezone
2023-04-07T08:00:00-05:00
2023-04-07T16:00:00-05:00
Where:
Upham Woods Outdoor Learning Center
N194 County Rd N
Wisconsin Dells
53965

Contact:
Upham Woods Outdoor Learning Center
(608) 254-6461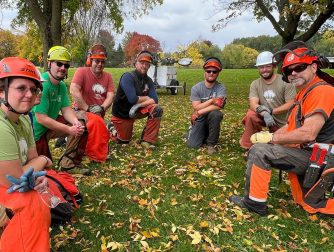 Become certified in chainsaw safety with these classes from Forest Safety Instruction. Upham Woods Outdoor Learning Center will be hosting both a level 1 and a level 2 class in April.
S.A.W.W Level One (8-hour course)
Friday, April 7th from 8 am- 4 pm
Level 1 provides confidence and safety, learning the chainsaws reactive forces, focusing on open face notching, including pre-planning the fell, bore cutting, as well as understanding the hinge strength.
Class Topics:
OSHA Standard 1910.266

Regulation and requirements and how they pertain to your operation.
Hands-on OSHA application

Proper Body Mechanics

Body mechanics will be demonstrated and used throughout the day

Personal Protective Equipment

What equipment is available
The importance and function of PPE

Chain Saw Safety Features

How to inspect the saw for damage

Intro to Hands-on Sharpening

Understanding the cutter and how it works

Information Before Felling and Cutting Begins
Reactive Forces and the Bore Cut
The Face Notch & The Hinge
Techniques for releasing limbs and spring poles under pressure.
S.A.W.W Level Two (8-hour course)
Sunday April 9th from 8 am- 4 pm
Level one is a pre-requisite to attending this training. Level 2 provides a focus on applying basic maintenance techniques to achieve maximum chainsaw performance such as filing techniques and carburetor adjustments. More Felling techniques and assessments are practiced and limbing and bucking techniques are introduced.
Class Topics:
Review Information Covered In Level One & Q/A
Reducing Down Time

Daily maintenance
Hands on chainsaw filing

Learning How to Take Information from the Tree

Introduction to the Pro sight (Measuring the height of the tree)
Segments and lean calulation

Precision Felling Assessment

Determining lean, weight distribution, and limitations

Introduction to Precision at the Stump

Introduction to wedging
Proper notching
Necessary hinge
Species differences
Terrain

Practice Felling Trees

Different species and size